California Digital is a privately held company with worldwide headquarters in Fremont, California and an Engineering and Development Centers in Bangalore, India. California Digital acquired the systems division of VA Linux Systems (now VA Software) in late 2001 and re-launched VA's server business thereafter.
California Digital focuses on providing massively-parallel Linux or OS X compute clusters to enterprise technical computing customers in various vertical markets such as manufacturing, oil and gas exploration, bioinformatics, financial services, and digital content creation.
California Digital provides turnkey cluster solutions, including system and interconnect integration, software support and configuration, application optimization and porting, performance tuning, and comprehensive cluster manageement tools.
California Digital customers can reduce costs by up to 90% by migrating compute-intensive applications away from proprietary, "big iron" UNIX systems to massively parallel Linux or OS X clusters. Toward this end, California Digital offers turn-key clusters completely supported and configured to run required applications upon delivery and commissioning.
California Digital personnel have deployed two of the five most powerful supercomputers on Earth -- the 19.94 teraflop "Thunder" cluster at Lawrence Livermore National Laboratory and the 12.25 teraflop System X at Virginia Tech.

California Digital specializes in 64-bit computing solutions and deploying leading-edge technology to further the adoption of massively-paralelle cluster computing.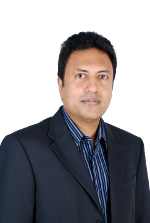 B.J. Arun brings over 20 years of leadership experience in the Enterprise Technical Computing industry. Arun co-founded California Digital in San Jose, CA in 1994 and has run the company profitably ever since. He set up India's first Linux only company when he set up California Digital (India) Private limited as a wholly owned subsidiary in 1999.

Arun orchestrated the acquisition of the assets of VA Linux Systems (Nasdaq: LNUX) in 2001 which catapulted California Digital into a market leadership position in the space of Linux based High Performance Computing and related software services.

Prior to California Digital, Arun served in Product Marketing for Micronics Computers (Nasdaq: MCRN), a leader in the design and manufacture of high end X86 based motherboards. He was responsible for defining the technology road map for the company's industry leading designs of server and desktop products.

Arun is a charter member of TiE, The Indus Entrepreneurs, a not-for-profit global network of entrepreneurs and professionals dedicated to the advancement of entrepreneurship.

Arun holds a Bachelors degree in Computer Science from the Bangalore University (India).

In addition to various awards and recognitions, Arun was awarded the prestigious 'Karnataka Rajyotsava Day Award' (the highest civilian award at the State level) by the Chief Minister of Karnataka on November 1st, 2004.
Corporate Headquarters
California Digital
46832 Lakeview Blvd.
Fremont, CA 94538

General: (408) 905-7144
Fax: (510) 651-8844
Support: (510) 580-5055
Asia/ Pacific
California Digital
8th Floor, Unit 17
Innovator Building
ITPL Whitefield Road
Bangalore 560 066
India

General: 51158671/72/73
Fax: 51158673